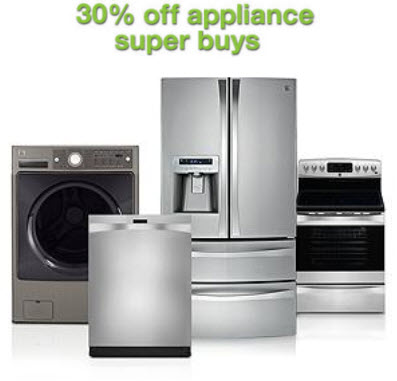 As the year comes to a close, many of us reflect on the resolutions that we started in 2013. Maybe your new diet began with a bang, but went down the drain after the oven stopped working. Or, adding extra dollars to the emergency fund proved useful when thunderstorms damaged the roof, but postponed the kitchen renovation project that you have planned since purchasing your house. Either way, the New Year offers the opportunity for everyone to start anew.
One way to see your 2014 goals through is to get a head start on them. From Thursday, 12/26 through Saturday, 12/28, Sears is offering up to 30% off appliances of $499 or more. Replace your run-down refrigerator with a top of the line Kenmore Elite model, and shave more than just a few cents off of your monthly electric bill.
If you find yourself wringing out your clothes because your washing machine does a less than stellar job, or you have to use a drying rack because your dryer doesn't understand that damp is not the same as dry, upgrade both with high-efficiency models. They have state of the art sensors and can hold more clothes – saving you time and money.
Plus, Sears Card holders can save an additional 5% off purchases. And, Shop Your Way Members can use the points that they've earned on upgrading their appliances on the perfect New Years Eve outfit to ring in 2014.
Shop the Sears Appliance Sale