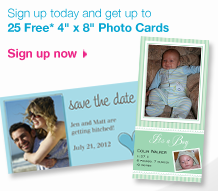 SeeHere is once again offering 25 FREE 4×8 photo cards for new members! Sign up for an account, choose a photo, customize your card, then head to checkout. Enter code 25cards and you'll just pay for shipping!
If you get 25 cards, shipping will be $4.99, making it $0.19 per card. Select 24 cards and shipping will drop even lower for a cost of 7¢ per card.
This would be a perfect time to make some Valentine's Day cards!