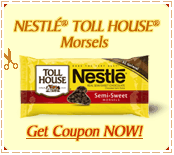 There are some awesome new Nestle coupons available – seven different coupons to be exact! You should be able to score 2 prints per coupon!
Coupon highlights:
$1/1 Nestle fun-sized package Butterfinger, Crunch or Baby Ruth bars
$0.75/2 Nestle Toll House morsels
$1/2 Nestle Juicy Juice
$1/1 Stouffers entree
$1/1 Nestle Toll House refrigerated cookie dough
To access these coupons, you'll need to first register on the Nestle site. If you're already registered and know your password, then you can bypass this step. After registering, copy and paste the URL below into your web browser (after the "email=", enter the email address that you registered for a Nestle account with):
http://www.nestlefamily.com/Coupons/ExclusiveOffers/Default.aspx?hbx=nfnov09&sc=10085583&seg=14&email=
Scroll down and you should be able to check the boxes of the coupons you'd like to print. After doing this, select "Print coupons" and then you may need to type in your Nestle account password.
Thanks, It's Hip to Save!