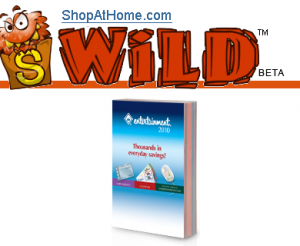 Hurry over to ShopAtHome.com, where you can get the Entertainment Book for only $5 for current ShopAtHome members or FREE for new ShopAtHome members who sign up through this link plus FREE shipping! Here's what you need to do…
Go to ShopAtHome.com and log in or sign up.
Once you are logged in, click on the ShopAtHome logo.
Watch the banner ads as they circulate. You'll see an add for FREE groceries, FREE trials and samples, etc. Click on the ad that says 'Click here to go WILD' as soon as it appears.
Click on Buy Now and it will take you to the Entertainment Book site to place your order.
You will pay $15 out of pocket but will get back a $10 Wild Cash Back rebate that will automatically post to your ShopAtHome.com account .This rebate should appear in your account in the next few days, but it could take up to 60 days. New members who sign up through this link and make this purchase will receive a $5 credit to their accounts, which makes this book FREE! Note: To get this $5 join bonus, you must sign up through this link and make a purchase within 30 days
Limit one per household/shipping address.
Thanks, Hip2Save!