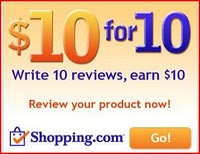 Would you like to earn $10 (possibly more)? Shopping.com is offering up $10 for 10 product reviews! All you need to do is go here and search their site for products you own or have used previously. Your reviews must be submitted during the promotional period, which ends 3/31/10. You can read all the details here.
It will take a couple of days for Shopping.com to validate reviews. You will be credited as long as your rating is deemed 'helpful'. Once they validate all your reviews, you'll be paid via PayPal. Make sure to set up a PayPal account before writing reviews! You can set one up for FREE here.
Here's how much money you can possibly earn:
10-19 reviews for $10
20-29 reviews for $20
30-39 reviews for $30
40-49 reviews for $40
50-59 reviews for $50
60-69 reviews for $60
70-79 reviews for $70
80-89 reviews for $80
90-99 reviews for $90
100+ reviews for $100
Thanks, Hip2Save!