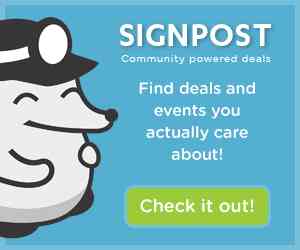 Looking for some deals in your neck of the woods? Turn to Signpost. Signpost is a social network for bargain hunters. With Signpost, community members can log on and post different deals that they know of in their area, like brunch specials, retail sales and more.
For deal enthusiasts on the go, they also have an iPhone app, so if you're traveling and want insider knowledge, open up the iPhone app to find out FREE museum admission days, prix-fixe dinners and more!
So what are you waiting for? Head over and register for an account with Signpost now.