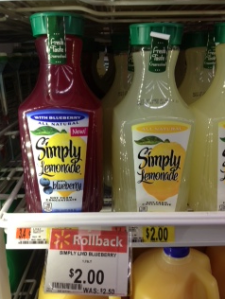 Simply Lemonade Coupon
Wow! Here's a very rare lemonade coupon. Hurry over to Coupons.com and print your $0.75/1 Simply Lemonade coupon while it's still available. These go on sale frequently at grocery stores and Target, so wait for a sale to score a great deal!
If you don't want to wait, you can grab yourself a great deal at Walmart too:
Simply Lemonade – $2
$0.75/1 Simply Lemonade coupon
Final Price: $1.25
Coupons powered by Coupons.com
Thanks for the deal and photo, I Heart the Mart!