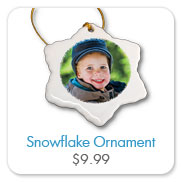 UPDATE: Unfortunately, it looks like you cannot get both the $10 credit and the free shipping offer on the same order.
Here's a popular promotion being offered by Snapfish, and one you don't need to worry about getting cancelled: register for Snapfish and receive a $10 credit on your account.
What can you get with this $10 credit? The following items sell for $9.99: collage poster calendar, snowflake ornament and an 11oz white mug. The 5×7 everyday photo books are only $11.99 each.
This credit expires five days after you get it.  But, here comes the best news, tomorrow (11/30) is Cyber Monday and you can enjoy FREE shipping on all photo gifts on Snapfish with coupon code NOV30. This is only valid on Cyber Monday (11/30).
This is what you need to do to get your freebie:
Sign up for your Snapfish account and get the $10 credit. This credit is automatic and expires in 5 days.
Make your purchase of photo gift tomorrow (Monday, 11/30) and use the code NOV30 to get the item shipped for FREE!
That's it! No other steps required, except maybe wait in the comfort of your home for your freebie.
Thanks, Common Sense With Money!