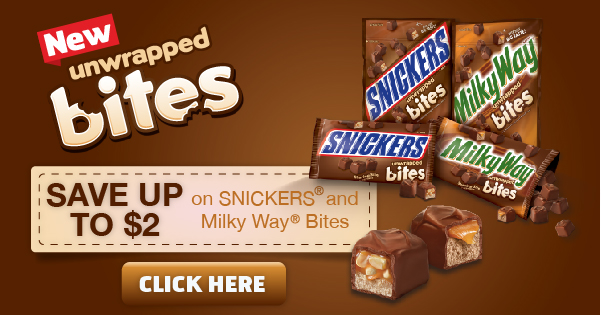 High Value Snickers and Milky Way Bites Coupon
Have you had a chance to try the new SNICKERS® or Milky Way® Bites yet? I bought a couple of bags last week and they are absolutely delicious! If you haven't had a chance to try them yet, now is the perfect time, since there is a new, high value coupon available!
Head over and grab your SNICKERS® and Milky Way® Bites coupons today! The following coupons are available, but you'll need to register and share this offer with your friends to get the value listed.

If you'd rather not share with your friends, you can still get a coupon, but it will be worth half as much. These coupons should make for some awesome deals when paired with a sale and store coupons or a rewards promotion!
These are perfect for game day, tailgating parties, when you're on the go, or just as a dessert. Warning: these are addicting, so you may not be able to put the bag down (like me)!
If you love chocolate, you won't be able to resist new SNICKERS® and Milky Way® Bites. Enjoy unwrapped, bite-sized morsels that are great in recipes or by themselves! For tailgating, these #GameDayBites will be sure to make the crowd go wild. Hurry before coupons run out!