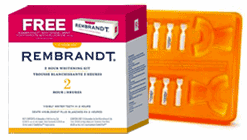 Currently on Soap.com, buy $25 in Rembrandt products and get a whitening kit and toothpaste FREE! The whitening kits are normally around $20, and by following the instructions below, you can get them for only $10 each!
Deal Scenario
Buy one Rembrandt 2 Hour Whitening Kit (8 count), $20.35
Buy one 2.6 oz toothpaste, $6.75
Total: $27.10
Use coupon XNMI4979 to save 15% (new users only!)
Pay $23.10 (shipped)
Receive a FREE whitening kit and toothpaste
Final cost: 2 whitening kits and 2 toothpastes $23 shipped!
**The FREE kit and toothpaste will be automatically added to your cart once you buy the necessary items.
Thanks, SwagGrabber!