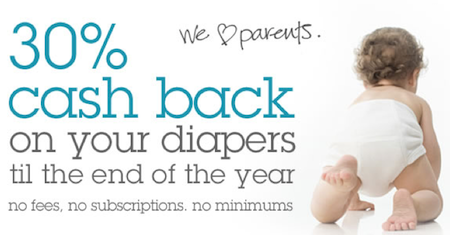 If you have kids in diapers, you're going to love this deal! Through the end of 2010, Soap.com is offering up 30% cash back on your diaper purchases!
Here's how it works:
Head over to Soap.com.
Add any amount of diapers to your cart. Orders over $49 will get FREE shipping.
Enter coupon code 30AFF at checkout to earn 30% cash back on this order and others through the end of 2010. Cash back credits are applied to diaper purchases after discounts.
The cash back credits will be placed in your account within 10 days of purchase. Credits are valid for 60 days and will be automatically applied to your next purchase on Soap.com. To see your credit balance, go to 'My Account'. You can only earn cash back on a maximum of $300 in diaper purchases. This cash back offer may not be combined with any other offers. Cloth diapers don't qualify for cash back credits, except for gDiapers.
Thanks, Hip2Save!