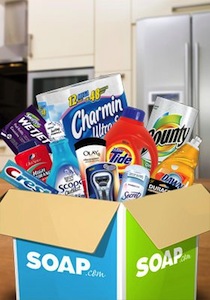 Here's a great way to save on household and personal care items! Right now, Amazon Local is offering a $16 Soap.com voucher for just $8. This offer is only available for new Soap.com members, and only applies to specific brands.
Plus, spend $35 or more at Soap.com and you'll get free shipping!
If you're not seeing this offer, change to the National deals and you should then see it.
Valid for new Soap.com customers only. Limit 1 voucher per household. Voucher only applies to the following brands: Accu-Clear, Align, Always, Annie's, Ariel, Aussie, Bold, Bounce, Bounty, Braun, Camay, Cascade, Charmin, Cheer, Clairol, Clearblue Easy, Clorox, Cottonelle, CoverGirl, CoverGirl & Olay, Crest, Dawn, Delsym, Depend, Dial, Downy, Duracell, Era, Energizer, Eucerin, Fact Plus, Febreze, Fekkai, Fixodent, Gain, Gillette, Glad, Gleem, Green Works, Head & Shoulders, Herbal Essences, Ivory, Ivory Snow, Joy, Kleenex, Kotex, Lipton, Lysol, Metamucil, Method, Mr. Clean, Mucinex, Olay, Old Spice, Oral B, Pantene, Pepto-Bismol, Prilosec, Poise, Puffs, Pur, Purex, Right Guard, SafeGuard, Scope, Secret, Seventh Generation, Slim-Fast, Swash, Swiffer, Tampax, Tide, Tide To Go, Yes To, Vicks, Viva, Zico. Voucher cannot be applied to previous orders or combined with any other offer, sale, or close-out. Entire value must be used in a single order. Promotional value of the voucher valid through April 28, 2013.