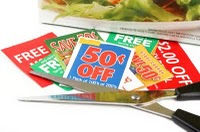 There are lots of coupons out on the internet that aren't "good" coupons. There are also lots of ways to misuse a coupon.
Here are a few rules to help you stay on the right path in couponing:
Always follow the words on the coupon. If it says it is for a 6oz box, then buy the size indicated. While it might work for another size or product, that is fraudulent use of the coupon.
Don't intentionally use expired coupons. If your store has said that it is okay, you should still ask before using one on every trip. Most stores do not allow any.
You should never make a copy, scan, or fax of a printable coupon in any way. There are lots of security features built into these coupons. While they may scan in the grocery store, the store will never get reimbursed for them.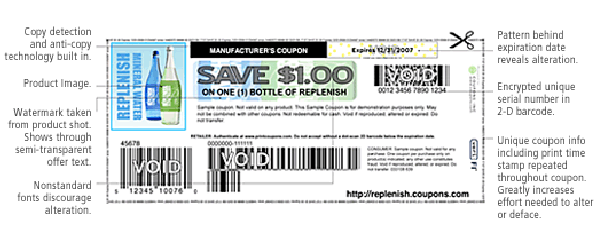 To put this into easier terms:
The unique 2D barcode on the upper left is a different number for every coupon you print, even for a second print of the same coupon.
The dotted line around the entire coupon is really text. It has your user ID, the date and time and coupon offer information printed – repeating at least 35 times around the coupon. This is also printed at the bottom of the expiration date box.
The long barcode at the bottom also has a portion of the unique 2D barcode number in it. These barcodes are much more specific and very soon will be the barcode that is scanned in all stores!
Coupons Sent via Email:
There are many coupons that are passed around in emails that are for FREE products. These all fall into the "too good to be true" category. Most of these have been scanned from a coupon that someone received from a manufacturer directly. Don't get mad at the person that sent it to you, they have been passed around for years. Manufacturers rarely, if ever, release printable coupons for FREE products. If they do, it is not often through a PDF coupon.
Click here to see a full list of coupons that are fraudulent. You'll also notice many of these have rewards offered for catching the original person that created the coupon!
What are the conesquences of coupon fraud?
The cost of coupon "misredemption" to manufacturers annually is estimated to be over 300 million dollars. It does get passed on to you in the end.
Coupon fraud is prosecuted. Meet the CIC, they prosecute coupon fraud and boast about having never lost a case since 1986.
The penalties they have seen:
Longest prison sentence: 17 years
Highest financial penalty: $5 million
Prison sentences of three to five years are not uncommon.
Financial penalties generally vary, but have often been in excess of $200,000.
Thanks, Southern Savers!