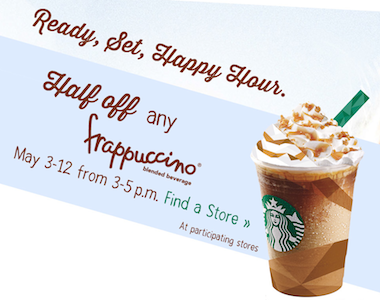 Starbucks is starting an awesome promotion! Starting Friday, May 3rd and running through May 12th, Starbucks is offering half off any Frappuccino Blended Beverage from 3-5pm, no coupon required!
Make sure you're signed up for the Starbucks Rewards Program before you head in. You can earn more perks even while grabbing an awesome deal like this!
They're also introducing two new flavors of Frappuccinos: Mocha Cookie Crumble, and Caramel Ribbon Crunch. I personally can't wait to try the Caramel Ribbon Crunch – sounds delicious!