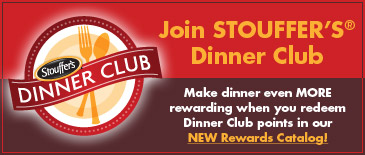 Did you know that Stouffer's has a rewards program? It's called Stouffer's Dinner Club. You'll get 100 point for signing up and then another 100 points for taking a survey. Plus, every specially-marked package of Stouffer's single-serve meals have unique 12-digit codes worth 20 points! Each code may be used only once, and members may enter up to 10 codes per day.
You can use your points to enter sweepstakes or redeem them for various rewards. There are various gift card sweepstakes you can enter and they only cost a total of 10 points. You can also get a buy one get one FREE Stouffer's coupon for 400 points, two Fandango Movie Tickets for 2,000 points, and more!

Need a Stouffer's coupon to start building up your points?
Login or register here and take the Stouffer's 'Lets Fix Dinner Challenge'. On the next page, click 'Click here to set your dinner goals', and then you'll see the coupon link on the lower left hand side of page. The coupon is valid for $1 off any one Stouffer's Entree.
Thanks, Hip2Save!