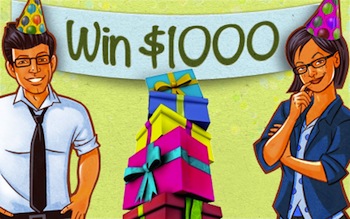 Swagbucks is celebrating their fourth birthday this Friday, February 27th! Happy birthday Swagbucks! To celebrate, they're giving away $1,000 to four of their members. To sign up for a chance to win:
Head over to the Swagbucks Birthday Bash page.
Choose one of the two parties and RSVP for it. If you don't have a preference, click "Surprise Me".
That's all – you're entered for a chance to win! Make sure to invite your friends via Facebook and Twitter so they have a chance to win too! 🙂
The party that earns the most will be awarded a 10 Swag Bucks bonus to each participating partygoer. The running up party will get 5 bonus Swag Bucks.
However, if you reach specific goals throughout the day as a group, pieces of the image of your party will be revealed. Reveal the whole picture before February 28th, and your team's bonus will be doubled!
If you aren't already a member of Swagbucks, well, why not? You get rewarded for things you do every day, like just searching the web.
If you sign up for Swagbucks before February 27th, enter code BIRTHDAYBASH12 during the sign up process and you'll be awarded an extra 110 Swag Bucks. That means you'd start out with 140 Swag Bucks instead of the normal 30!