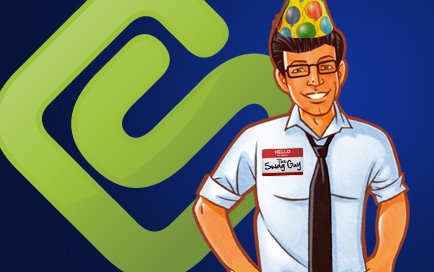 Swagbucks, the best place on the web for FREE stuff, is turning 3, and the celebration they have planned for the 28th is going to be huge! It'll feature a bunch of Swag Codes, a new look and feel for the Swagbucks Blog and the launch of two new features, one of which will redefine the way you use their search function.
You definitely won't want to miss it, so be sure you're on the site bright and early the morning of the 28th for your chance to earn big and be a part of the biggest birthday celebration on the web. Swagbucks.com is a site where you can earn thousands of FREE products for doing the things you do every day. Whether it's searching the web, watching videos, playing games, shopping or more, we've got a way for you to be rewarded with FREE stuff. No strings. No gimmicks.
Also, if you're new to Swagbucks, now would be a great time to sign up! New members who enter code 3rdBirthday118 during the registration process will score an extra 50 Swag Bucks! You'll already get 30 Swag Bucks, so you'll start out with a total of 80! This code is valid until 2/28/2011 at 11:59 pm EST.