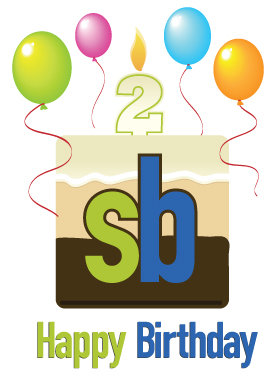 To celebrate Swagbucks.com 2nd birthday today, they will be launching Swagbucks 3.0 with some very special new features and a ton of Swag Code giveaways through their blog, Twitter and Facebook that will give us plenty of opportunities to earn FREE Swagbucks! You will notice that the Swagbucks in your account will be multiplied by 10 (as will the prices in the store, so for example, if you had 45 bucks in your account you will now have 450 SB;  the Amazon gift card which was 45 SB will now be 450 SB). No prices are being raised on prizes, but what this will allow them to do is to award Swagbucks to us in ways that were not before imaginable (such as being logged into the toolbar and viewing special offers). Go here for more information on this.
Sign up for Swagbucks now! Enter code MITCHELLSCODE (case sensitive) in the Swag Code field to start out with 60 Swagbucks!
This code is for new users only. It will be active starting February 25th at 6am PST (8am CST) and will expire on Thursday, March 4th at 6am PST (8am CST). This code is case sensitive! If you already use Swagbucks, they will be doing a lot of Swag Code giveaways! See above for details.
What's new/happening today at Swagbucks.com?
More ways to earn Swagbucks every day
With Swagbucks.com 3.0, users will be able to earn by being logged in through the toolbar in their browser and also by simply viewing 'No Obligation' special offers. This means that in addition to all the regular ways to earn, the more you are engaged with Swagbucks.com, the more you will earn!
New home page, Swag Store and rewards store look
Swagbucks.com 3.0 will include a revamped, cleaner interface that will provide a better user experience.
Launch of the Swagstakes Portal
As you may know, they currently run about a dozen on-going sweepstakes (called Swagstakes) at any given time. With the launch of 3.0, they are going to have a brand new, fully stocked Swagstakes portal in which there will be dozens of Swagstakes running at all times! Some contests will be limited entry (meaning a set number of entries will be offered) so the odds for a user to win are greater.