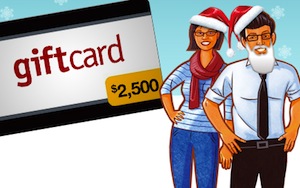 Swagbucks is launching a fun new promotion for the holidays, called Swagbucks Pays For Your Holidays. It involves completing your wish list on Swagbucks.com, is completely free to participate in, and will conclude with one lucky user winning $2500 in Amazon Gift Cards on Cyber Monday!
Here are the ways to enter to win that fabulous prize:
Complete your wish list (1 entry)
Share your wish list on Facebook or Twitter using their share buttons (1 entry per day you share). These shares act as a special referral link.
Have a new user register for Swagbucks through your wish list share (1 entry)
Have that user complete and share their own wish list (4 additional entries)
In addition to the grand prize, they're also giving away prizes every week day on their Facebook wall, Twitter account, and on the Swagbucks Blog!
For those of you who aren't members of Swagbucks yet, why not?! Now is a great time to sign up to get your chance at that $2500 Amazon gift card! Through Friday, November 18th, new members that enter code SBPAYSFORME during the sign up process will receive an extra 80 Swag Bucks. That means you'll start off with 110 Swag Bucks!