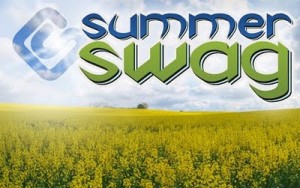 Swagbucks is launching their Summer of Swag promotion and there are the two awesome things going on this coming week:
On Monday, they will be having a Swag Code Extravaganza. They will be releasing at least 5 Swag Codes throughout the day!
Each day next week, they will be highlighting a different high value Swag Buck bill, starting on Monday with 25. Every 7th searching win on Swagbucks will be awarded that big bill, meaning that more people will have big wins next week!
If you're new to Swagbucks, if you sign up now, you can get 20 FREE Swagbucks to start you off! Just enter code SUMMEROFSWAG on the sign up form or after you sign up!
I LOVE Swagbucks, primarily for their Amazon.com gift cards! You can get a $5 Amazon.com gift card for only 450 Swagbucks!
What are you waiting for? Sign up right now!