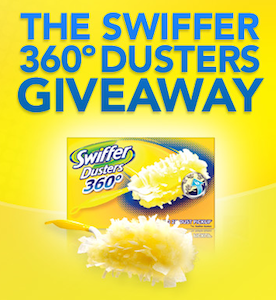 With thousands of deep-cleaning fibers, Swiffer 360° Dusters reduce 90% of allergens from cat and dog dander and dustmite matter by trapping and locking the dirt found in grooves and crevices.
Now's your chance to try the smart all-around design with 50% more fibers than regular Swiffer Dusters for FREE during the Swiffer 360° Dusters Giveaway on Facebook! Twice a week during May, they'll be giving away 12,500 Swiffer 360° Dusters Starter Kits including one short handle and three 360° Dusters.
Join over 300 people and 'Like' the Frugal Finders Facebook page. You'll find great conversations with other deal seeking readers, and I sometimes post time sensitive deals there.