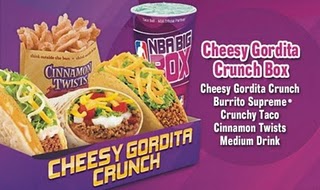 Taco Bell now has NBA Big Box meals! These meals are only $5 and you get a ton of food!
$5 NBA Cheesy Gordita Crunch box comes with:
Burrito Supreme, Regular Taco, Cheesy Gordita Crunch, Cinnamon Twists and Medium Drink
$5 NBA Volcano Box includes:
Volcano Taco, Crunchy Taco, Volcano Double Beef Burrito, Cinnamon Twists and Medium drink (if you can't handle the hot, you can ask for no volcano sauce)
No coupon needed.
Thanks, Mojo Savings!