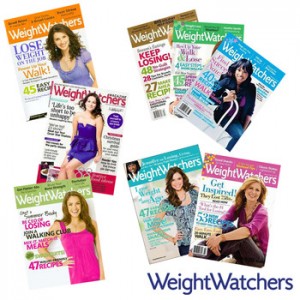 Tanga has yet another great magazine subscription deal! You can score a one year subscription to Weight Watchers magazine (6 issues) for just $3.99. Enter discount code WEIGHT at checkout to see this price. You can purchase up to 3 years for a total of $11.97.
The most practical weight-losing program has a practical magazine to match. Weight Watchers diet magazine is a helpful guide for every man and woman's challenge to achieve their health and fitness goals. When you purchase this cheap discount price Weight Watchers magazine subscription, you are purchasing one of the best Health & Fitness Magazines that will be accommodating to your own personal lifestyle.

Rather than struggling with complex, rigorous diets and exercise methods, Weight Watchers magazine seeks to make weight losing accessible and simple. Each month, the magazine will act as a supportive friend to help you succeed in realizing what you envision as your ideal weight. It includes easy-to-make recipes of delicious meals and goodies, exercise workouts to feel energized and to love, and inspirational success stories that will help you keep track and stay motivated.

Staying fit is about enjoying your lifestyle and a Weight Watchers magazine subscription will help you mold the eating and exercising lifestyle you wish you always had.