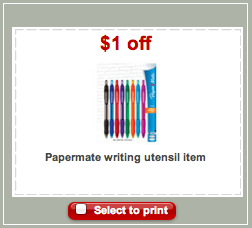 Today, several Target store coupons reset! My favorite is the coupon for $1/1 Papermate Writing Utensil. This week, these are on sale for $0.50, so FREE after the coupon!
This list has expired. See my coupon matchups page for current lists.
---
Here's a list of other coupons that appear to have been reset:
$1/1 Crayola Dry Erase Crayons, Markers or Board
$0.50/1 Scotch Magic Tape Item
$10/1 Philips Sonicare for Kids Electric Toothbrush
$0.75/1 Post-it Flags or Tabs (3-5 pack)
$0.75/2 Sour Patch Kids or Swedish Fish 8-oz. Bags
$1/1 Colgate Max Toothbrush, Toothpaste or Breath Strips 4.6 oz+
$1/2 Stride 2.0 Gum (3 pack)
Thanks, Totally Target!