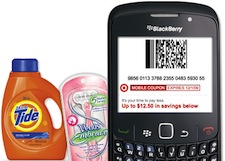 I received 7 new Target Mobile store coupons today, valid through November 12th.
There are certain sizes and varieties of Suave that sell for around 97¢ at some stores, so 22¢ after coupon. You should also be able to grab a pack of 5 gum for around 25¢ after coupon. Also, the shoe coupon doesn't exclude clearance, so keep your eyes peeled!
$1/1 Real Simple Magazine Target mobile coupon
$0.75/1 Suave Hair Care Item (excludes travel size) Target mobile coupon
$0.75/1 Sugar-Free 5® Gum (15 stick pack) Target mobile coupon
$1/1 Tazo Tea (13.8-oz Bottle) Target mobile coupon
$1/1 Kraft Homestyle Mac & Cheese Target mobile coupon
$2/1 Shoe Purchase (excludes boots and slippers) Target mobile coupon
$1/1 Pizza Hut® Express Food Item Target mobile coupon
Note: If you didn't get your text message alerting you to your new coupons and you've already signed up, try texting OFFERS to 827438. If you get an error message when you try to pull up your coupons, also try texting the number above; it may give you a different link.
New to Target Mobile Coupons?
Mobile coupons are Target store coupons sent to your phone to be used for in-store purchases. You pull-up the coupon on your phone at checkout and the barcode will be scanned by the cashier. These coupons are meant to be used only once, but can be stacked with manufacturer's coupons. If you want to sign up to receive them, go here. You will need to have an internet-capable phone in order to retrieve the coupons. Text messaging and data charges will apply.
Thanks, Totally Target!