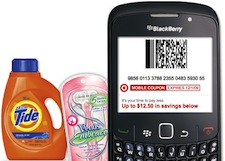 Target released nine new mobile coupons, valid through 2/4:
$1/1 Colgate Toothpaste
$1/1 Up and Up Cold and Cough Relief
$1/2 Food Storage by Up and Up
$1/10 4×6 prints
$1/1 Boca Dinner Entree
$1/1 Planters Nuts
$1/1 Oscar Meyer Bacon
$1/1 Target Cafe Food Item
$0.50/1 Nabisco Crackers
Don't forget, you can stack these with manufacturer's coupons for more savings!
If you didn't get your text message alerting you to your new coupons and you've already signed up, try texting OFFERS to 827438. If you get an error message when you try to pull up your coupons, also try texting the number above; it may give you a different link.
New to Target Mobile Coupons?
Mobile coupons are Target store coupons sent to your phone to be used for in-store purchases. You pull-up the coupon on your phone at checkout and the barcode will be scanned by the cashier. These coupons are meant to be used only once, but can be stacked with manufacturer's coupons. If you want to sign up to receive them, go here. You will need to have an internet-capable phone in order to retrieve the coupons. Text messaging and data charges will apply.