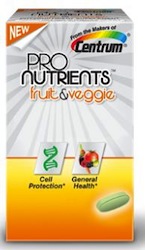 If you were one of the lucky ones who received a $10 mail in rebate wyb 3 Pfizer products in your 1/29 RP insert, you can get an awesome deal on Centrum ProNutrients at Target!
Buy 3 Centrum ProNutrients, $9.99 (may be marked at $11.99)
Total: $29.97
(3) $5/1 Centrum ProNutrients 01/01/2012 RP Insert (exp 02/26/2012)
Stacks with $2/1 Centrum or Caltrate Vitamin Item, TARGET COUPON and from Pharmacy Booklet
Pay $10.97
Submit for the $10 mail in rebate in the 1/29 RP insert
Final cost: $0.32 each!
If your Target allows you to use multiples of the same Target coupon in one transaction, you'll pay $8.97 and get back the $10 rebate. That means you make $1.03!
Thanks Totally Target!