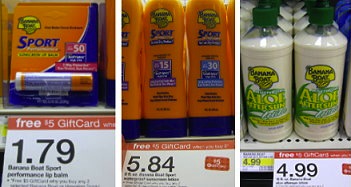 Here are a couple more Target deals for this week! You can pick up some really cheap suncare products and Zyrtec.
You'll get a $5 Target gift card when you purchase two Banana Boat or Hawaiian Tropic products. However, the two products must equal $5 or you won't get the gift card. Also, if you do a couple deals, you'll need to make sure that the sets are scanned as stated below. If two lip balms are scanned, the gift card will not prompt.
Hawaiian Tropic and Banana Boat sun care products are priced the same, so just cut out the other coupon if you prefer one brand.
Thanks, Totally Target!