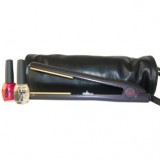 There is a pretty decent deal at Target today on a CHI flat iron. Normally, these retail for $120, but they have it marked down to $74.99 with FREE shipping! You can also use coupon code 2ROZVVHX to save an additional 10% which drops the price to $67.49 + tax.
The daily deals have been selling out pretty quick lately, so don't hesitate if you need a flat iron!
Thanks, SwagGrabber!