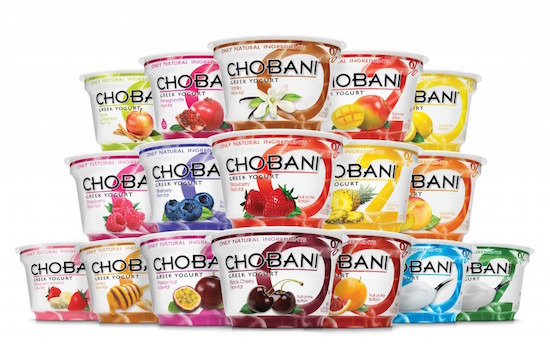 There are two great new Chobani Greek Yogurt coupons available to print right now! These are very rare to see, so make sure to print yours soon.
Unfortunately, these coupons are void in LA, MN, NV, NJ, ND, TN and WI. If you live in any other state, you can use these.
You can get a great deal on this greek yogurt at Target with these coupons, a Cartwheel offer, and an Ibotta offer!
Buy 3 Chobani Simply 100 – $1.19 each
20% off Chobani Simply 100 Greek Yogurt Target Cartwheel offer (deducts $0.72)
$1/3 Chobani Simply 100 and/or Chobani Oats Greek Yogurt 5.3 oz Cups
Pay $1.85
Submit for $1 cash back from Ibotta for buying 3 Chobani Simply 100 5.3 oz Cups
Final cost: $0.85 for all 3 ($0.28 each)
Buy 3 Chobani Limited Batch Cups – $1.14 each
$1/3 Chobani Limited Batch or Greek Yogurt 5.3 oz Cups
Pay $2.42
Submit for $0.75 cash back from Ibotta for buying 3 Chobani Greek Yogurt 5.3 oz Cups
Final cost: $1.67 for all 3 ($0.56 each)
There's also an Ibotta bonus for redeeming both Chobani offers. You could do something like this to stock up:
Buy 3 Chobani Simply 100 – $1.19 each
Buy 3 Chobani Limited Batch Cups – $1.14 each
20% off Chobani Simply 100 Greek Yogurt Target Cartwheel offer (deducts $0.72)
$1/3 Chobani Simply 100 and/or Chobani Oats Greek Yogurt 5.3 oz Cups
$1/3 Chobani Limited Batch or Greek Yogurt 5.3 oz Cups
Pay $4.27
Submit for $1 cash back from Ibotta for buying 3 Chobani Simply 100 5.3 oz Cups
Submit for $0.75 cash back from Ibotta for buying 3 Chobani Greek Yogurt 5.3 oz Cups
Get a $0.50 bonus for redeeming both Chobani offers
Final cost: $2.02 for all 6 ($0.34 each)