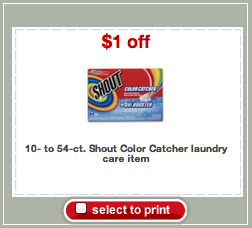 Target released lots of new store printable coupons on their website this morning! Print the ones you think you may use now. Sometimes these coupons disappear before they actually expire!
EXPIRES 5/19/2012
$1/1 Ziploc 46 ct 1 Gal Mega Pack PLUS 150 ct Perfect Portions
$1/1 Shout Color Catcher Laundry Care Item, 10-50 count
$1/1 Shout Stain Remover Wipes, 12 count
$0.55/1 Shout Advanced Stain Remover Gel Spray
$1/2 Scrubbing Bubbles Cleaning Items
$1/1 Scrubbing Bubbles Color Power Cleaning Item, 20 oz
$1/2 Scrubbing Bubbles Automatic Toilet Refills, 2 pack
$0.50/1 Glade Spring Seasonal Air Freshening Item
EXPIRES 5/22/12
$1/1 Purina Puppy or Dog Chow 4-lb.+
$1/1 Purina Kitten or Cat Chow 3.5-lb.+
EXPIRES 6/2/12
$1/2 Market Pantry or Archer Farms Fruit snacks or Granola Bars
$1/3 Market Pantry® Dry Pastas
$10/1 Tagg Pet Tracking System
$1/2 Market Pantry® Lunch Meats
$1/1 Market Pantry® Frozen Fruit, 40 oz+
$1/1 Market Pantry® Frozen Seafood Item
$1/2 Archer Farms® Chip (Excludes Single Serve)
B1G1 50% Off Room Essentials Picture Frame, Lamp Shade or Base
20% Off Select Room Essentials™ Items *Window Panel, Throw Pillow, Table Linen, Accent Rug or Slip Cover
$1/1 Room Essentials™ Fast Dry Bath Towel
20% Off Room Essentials™ Bedding Item
$1.50/1 Aquafresh Extreme Clean Oral Care Item (ETS)
$1/2 Quaker Real Medleys Instant Oatmeals
$3/1 L'Oreal Anti-Aging Skin Care Item (ETS)
$1.50/2 DiGiorno's Frozen Pizza, 12 oz+
$1/1 Listerine Flouride Defense Rinse, 1 Ltr
$1/1 Nivea Body Wash (ETS)
EXPIRES 6/4/12
$1/1 Tidy Cats Cat Litter, 20 or 35 lb Instant Action or 24/7
EXPIRES 6/9/12
$2/2 Degree Mens Deodorant or Anti-perspirant (ETS)
$1/2 Dog Treats: (Milo's Kitchen, Pupperoni, Milk Bone)
$1/1 Kellogg's Special K Cracker Chips with purchase of Cereal or Multipack Bars
Thanks Totally Target!