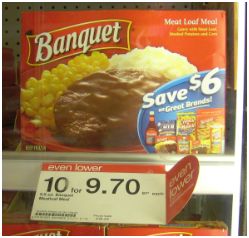 Some Target stores may have Banquet Dinners on sale for $0.97 each. If you find the same at your store and can stand to play the Recession Payback Game for ConAgra coupons, there is a $0.50/5 Banquet Dinners printable coupon as one of the choices at the end!
It would make them $0.87 each.
This product also qualifies for the FREE $25 coupon booklet rebate wyb $10 of ConAgra products. This rebate expires 3/28. Keep an eye out for specially marked boxes like this one that contain $6 in coupons. They are printed on the interior of the box.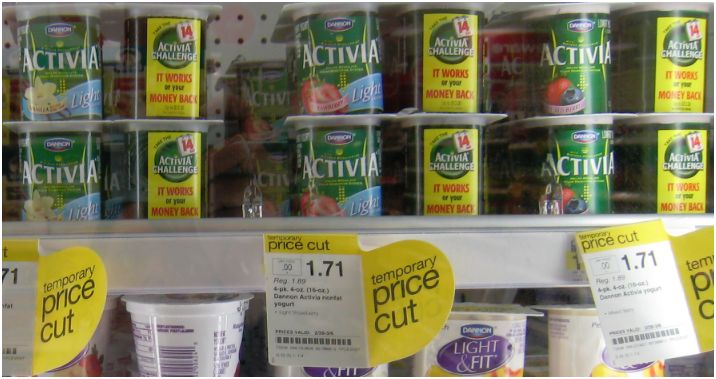 There is also a one-week price cut on Dannon Activia 4 packs through 3/6.
Deal Scenario:
Dannon Activia 4 packs, $1.71 each
Use the $1/1 Dannon Activia 4 pack, 8 pack, 12 pack or tub coupon from the 1/10, 2/7 or 2/28 SS
Final cost: $0.71
*Some price cuts vary by region, but not all stores have good signage, so price check your items to be sure.
Lean Cuisine is also included in the sale this week, and your shelves may be marked as "even lower" at 4/$7.96 or $1.99 each. If this is the case, you can do the scenario below:
Lean Cuisine, $1.99 each
Use the $1/4 Lean Cuisine Entrees printable coupon
Final cost: $6.96 for all 4 ($1.74 each)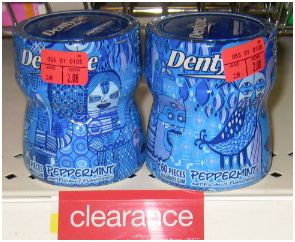 You may find those funky limited edition Dentyne bottles clearanced at 30% off, marked down to $2.08. You may want to clip your coupons and have them on you in case you find the same!
Dentyne Bottles, on clearance for $2.08
Use the $1.50/1 bottle of Dentyne gum coupon from the 2/28 SS
Final cost: $0.58
Dentyne also had an ad in the SmartSource advertising their online Pocket Ammo sweeps. They are giving out 100 daily prizes, including a Mercedes-Benz C300 Sport Sedan, DROID ERIS, $50 Prepaid MasterCard® Card, and Dentyne gum. You can enter once a day but it looks like you may need a UPC code to enter online.
Thanks, Totally Target!