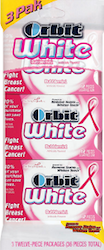 Here are even more Target deals for you to grab this week on gum, Gold Peak tea, Nivea, and more.
:: Eclipse and Orbit Gum Deals
Eclipse and Orbit White Gum (3 pk.), $2
$1/1 Orbit White or Eclipse (3 pk.)
Final cost: $1 each ($0.33 per individual pack)
:: Gold Peak Tea Deal
Gold Peak Tea (18.5 oz), $1.02-$1.25
$0.50/1 Gold Peak Tea
Final cost: as low as $0.52 each
:: Nivea Shave Gel Deal
Nivea Sensitive Shave Gel, $2.74
$2.25/2 Nivea for Men Shaving Products
$2/1 Nivea for Men Facial Skin Care Item Target Mobile Coupon
Final cost: $0.61 each
:: Suddenly Salad Deal
Betty Crocker Suddenly Salad, $1.25 (through 7/7)
$0.50/2 Betty Crocker Suddenly Salad Mixes
Final cost: $1 each
Check out the rest of the Target deals you can score this week.
Thanks Totally Target!