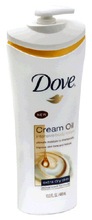 Dove Cream Oil Body Lotion is on sale at Target this week for $5 each. Plus, when you buy 2 you'll get a $5 Target gift card! Check out the deal scenario below to maximize your savings!
Deal Scenario:
Buy 2 Dove Cream Oil Lotions at $5 each
Total: $10
Use 2 $1.50/1 coupons from the 10/4 RP
Use 2 $1/1 Target peelie coupons (if you can find them)
Pay $5
Get back a $5 Target gift card
Final cost: 2 lotions for FREE!
Dawn Olay 19oz (Lavender scent only) – $2.29
Use the $1/1 coupon from the Home Made Simple coupon booklet
Final cost: $1.29!
Pantene Pro V travel size – $0.97
Use the $1/2 coupon from the 10/11 P&G
Final cost: $0.47!