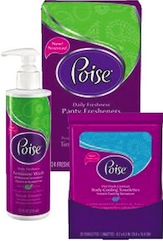 If you've been looking to use your $3/1 Poise Feminine Care Item coupon at Target but have been holding off due to high prices, I have good news for you! There's a new Target coupon to stack with, making for three FREE Poise products.
Poise Cooling Towelettes (20 ct.), $2.99-$3.49
Poise Panty Fresheners (24 ct.), $3.49
Poise Feminine Wash, $2.99-$3.49
$3/1 Poise Feminine Wellness Product, exp. 2/23/13 (SS 01/13/13 R)
$3/1 Poise Cooling Gel, Cooling Wipes, Lubricant, Panty Fresheners or Intimate Wash, exp. 5/30/13 (ALL YOU Feb '13)
$1/1 Poise Feminine Care Item Target printable
Final cost: FREE!
Check out the other Target deals available this week.
Thanks Totally Target!