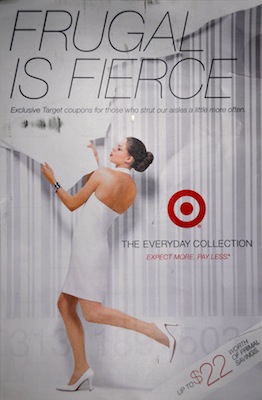 Keep your eyes peeled for a new Target mailer! I just received this one in the mail today; it's called "Frugal is Fierce." It contains exclusive Target coupons for those who strut their aisles a little more often. Yep, sounds like me! 😉
These are all Target store coupons that expire on 8/7/13.
$1/2 3-pk. ID Gum
$0.75/2 6- or 10-ct. Kellogg's Special K Snack Items
$1/2 Glade Air Care Items (excl Plugins Oil Warmer, 8-oz. Aerosol, and 32-oz. Carpet Powder)
$0.50/1 Bounce or Downy Fabric Softener: Dryer Bar, Liquid, or Sheets ETS
$0.50/1 24- to 100-oz. Pine-Sol Cleaning Item
$0.75/1 10- or 24-ct. Shout Color Catcher Laundry Item ETS
$1/2 Cleaning Items: Scrubbing Bubbles, Windex, or Pledge ETS
$0.50/1 Dawn Dish Soap or Cascade Dishwasher Detergent ETS
$0.50/1 9-pc. or larger Charmin Bath Tissue
$1/2 Ziploc Mega Pack Food Storage Items
$0.50/1 6-pi. or larger Bounty Paper Towels
$1/2 Milk-Bone Dog Treats
$3/1 42-ct. Digestive Aid Item: Prilosec OTC or Align
$1/1 Colgate Mouthwash, Toothpaste, or Toothbrush ETS
$0.50/1 50-ct. or larger up & up Cotton Beauty Item
$2/2 Secret Deodorant ETS
$5 off with purchase of Gillette Fusion ProGlide Razor and 4-ct. or larger Refill Cartridges
$1.50 off with purchase of 13-ct. or larger Pampers Diapers or Training Pants AND 60-ct. or larger Pampers Baby Wipes
Make sure to search the coupon database to see if there are any manufacturer's coupons to stack with these! And if you're wondering, there isn't a fool-proof way to get on a list for Target mailers.