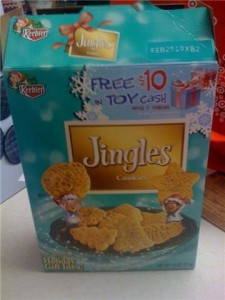 It looks like Target has now marked down all holiday and Christmas items 75% and that includes food items!

Deal Scenario:
Buy 5 packages of Keebler holiday cookies at $0.75 each
Total: $3.75
Use the $1/3 Target manufacturer coupon
Pay $2.75
*Plus, Keebler has a promotion currently running until the end of 2010! Buy 5 boxes of specially marked cookies (look for the holiday toy cash label on the upper right hand side and most of the holiday cookies have it–look at the picture above), cut out the tokens on the box, fill out a form, mail it in, and you'll get a $10 check in the mail! The best part–you don't even have to mail in your receipt!
Final price (after the $10 rebate): FREE + a $7.25 moneymaker
Other Clearance Finds:

Twixels Vanilla (50% off), $1.75
Use $1/1 Target coupon
Final price: $0.75
Coffee Mate holiday creamer, $1.57
Use $1/1 coupon
Final price: $0.57
Welch's Sparkling Red Grape Juice (50% off), $1.65
Use the $1/1 coupon from the 11/15 or 12/13 SS
Final price: $0.65
Ziploc Holiday Containers, $1.49
Use the $1.50/2 coupon from the 12/6 SS
Final price: $0.74
Playskool Musical Sit and Spin Toy, on clearance for $15.09
Use the $10/1 coupon or from the 10/18 SS
Final price: $5.09
Holiday Scents of Method Soap, $2.04
Use the $2/1 coupon
Final price: $0.04
Thanks, Hip2Save!