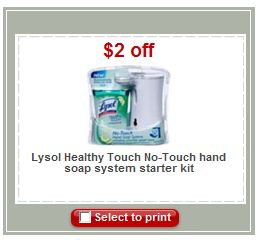 Yesterday, the $1/1 Lysol Healthy Touch Target cupon expired, disappeared off the site, and in its place is now a $2/1 Target coupon! There also seems to be a reset on several manufacturer coupons, so if you were wanting anything again, give it a try and see if you can print again.
The Lysol Healthy Touch is advertised in this week's ad (ends today) for $9.99, although that is the price it has been at since it showed up in stores. You can now get a total of $7 off the price if you've got the manufacturer's coupon:
Lysol Healthy Touch No-Touch Hand Soap System $9.99
Use the $2/1 Lysol Healthy Touch Starter Kit Target coupon
Use the $5/1 Lysol No-Touch Hand Soap System Starter Kit coupon from the 3/28 SS
Final cost: $2.99
Thanks, Totally Target!