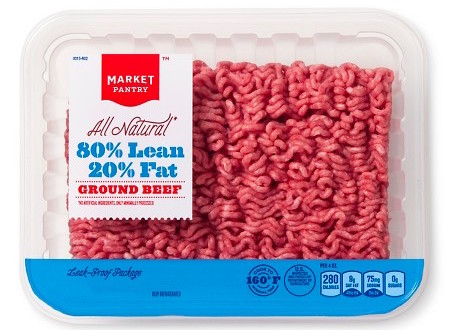 Starting Sunday, 10/9/16, Target will have a great coupon available to save $5 off a $20 meat or seafood purchase! You'll find this coupon in the weekly ad, or you can text MEAT to 827438 to receive the coupon on your phone.
This is a category coupon, so you can still use coupons and Cartwheel to save even more!
Plus, there are a few nice Cartwheel offers available to stack with this coupon. Here are a few deal ideas for you, but keep in mind, these are valid Sunday, 10/9/16 only.
Buy 4 Oscar Mayer Fully Cooked Bacon – $3.99 = $15.96
Buy 1 Market Pantry 80/20 Ground Beef, 1 lb – $4.49
Total: $20.45
-$5.00 (Use $5/$20 Meat or Seafood Purchase Target coupon)
-$4.00 (Use 25% off Oscar Mayer Bacon Cartwheel offer)
-$1.12 (Use 25% off Market Pantry Ground Beef Cartwheel offer)
-$4.00 (Use (4) $1/1 Oscar Mayer Fully Cooked Bacon printable)
Final cost: $6.33 ($1.27 per item)
Buy 1 Tyson Fun Nuggets – $4.99
Buy 2 Oscar Mayer Fully Cooked Bacon – $3.99 = $7.98
Buy 1 Market Pantry 73/27 Ground Beef, 1 lb – $3.99
Buy 1 Jimmy Dean Sausage Roll – $3.72
Total: $20.68
-$5.00 (Use $5/$20 Meat or Seafood Purchase Target coupon)
-$2.00 (Use 25% off Oscar Mayer Bacon Cartwheel offer)
-$1.00 (Use 25% off Market Pantry Ground Beef Cartwheel offer)
-$1.00 (Use $1/1 Tyson Fun Nuggets – 8-14-16 SS)
-$2.00 (Use (2) $1/1 Oscar Mayer Fully Cooked Bacon printable)
-$0.75 (Use $0.75/1 Jimmy Dean Fresh Sausage printable)
Final cost: $8.93 ($1.79 per item)
Buy 1 Market Pantry 80/20 Ground Beef, 1 lb – $4.49
Buy 1 Oscar Mayer Fully Cooked Bacon – $3.99
Buy 2 Hormel Always Tender Pork Loin Fillet, 27.2 oz – $6 = $12
Total: $20.48
-$5.00 (Use $5/$20 Meat or Seafood Purchase Target coupon)
-$1.12 (Use 25% off Market Pantry Ground Beef Cartwheel offer)
-$1.00 (Use 25% off Oscar Mayer Bacon Cartwheel offer)
-$1.00 (Use $1/1 Oscar Mayer Fully Cooked Bacon printable)
-$2.00 (Use (2) $1/1 Hormel Always Tender Meats printable)
Final cost: $10.36 ($2.59 per item)