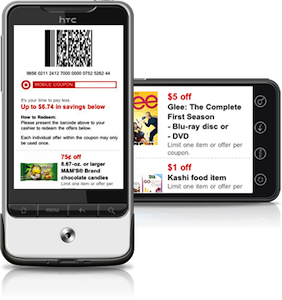 Here are some new Target mobile coupons for fresh fruit, vegetables, meat, and much more! Just text THANKS to 827438 from your mobile phone to receive these.
To use these, just have the cashier scan the barcode from your phone after they've finished ringing up all of your items.
Keep in mind that text messaging and data rates will apply.
$1 off Clif Bar multipack
$1 off Fresh fruit purchase of $5 or more
$1.50 off Multipack Ziploc space storage bags
$1 off 21-ct. or larger up & up® diapers item
$1 off up & up® vitamin or supplement item
$1 off Fresh meat purchase of $5 or more
$1 off Fresh vegetable purchase of $5 or more
$1 off up & up® cold/cough relief item (Excludes Pseudoephedrine items)
75¢ off 15-oz. Skinnygirl popcorn
$2 off With purchase of two P.F. Chang's Home Menu

Frozen meals or
Appetizers or
Rice

$1 off With purchase of two Trident gum multipacks
$1 off Honey Maid crackers
$1 off With purchase of two 9-pk. or larger Charmin bath tissue
$1 off BelVita breakfast biscuits item
$1 off With purchase of two

6-ct. or larger Bounty or
3-ct. or larger Puffs

$2 off With purchase of two fabric softener or scent booster (Excludes 34-ct. Bounce and trial/travel size)
$2 off With purchase of two Febreze air freshener items
$2 off With purchase of two laundry detergents