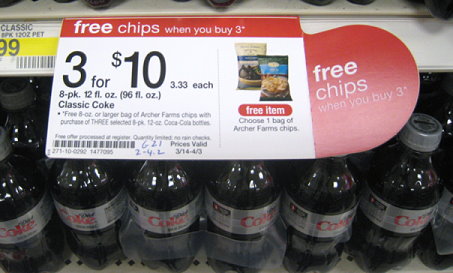 Here is a new special purchase deal at Target:
FREE Archer Farms chips wyb 3 Coca-Cola 8 pack 12 oz bottles (Valid until 4/3)
The FREE Item can be any bag of Archer Farms chips, 8 oz or larger. All known Coca-Cola product inclusions are priced at 3/$10 and are as follows: Coca-Cola Classic, Coca-Cola Zero, Sprite, Sprite Zero, Diet Coke, and Caffeine Free Diet Coke. Although Coca-Cola coupons are somewhat hard to come by, you may want to keep a lookout for FREE Diet Coke 6 or 8 Pack Bottles wyb two 8 Pack Bottles of Coca-Cola Products (Target coupon) hangtags.
Thanks, Totally Target!