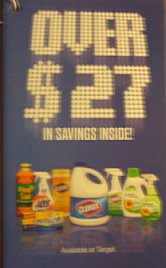 There's a new $27 Savings hangtag booklet at some Targets! The booklets would be on products in the cleaning products and laundry aisles.  They are all manufacturer coupons, but the coupons and the cover have "Available at Target" on them.
Coupons Inside
$1/2 Green Works natural cleaners
$3/1 Green Works natural laundry detergent
$1/2 Clorox cleaning products
$3/1 Clorox Toilet Wand starter kit
$1/1 Pine-Sol cleaner
$1/2 Formula 409 or Tilex cleaning products
$0.50/1 Clorox liquid bleach
$1/1 Glad ForceFlex trash bags
$3/2 Armor All products
$3/2 Fresh Step litter products
$3/1 Kingsford Charcoal Briquets & KC Masterpiece BBQ sauce
$2/2 Hidden Valley Ranch Dressings
$5/1 Brita system and filter pack
Thanks, Totally Target!