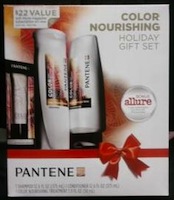 Next time you're at Target, keep your eyes peeled for these new Pantene gift sets. These include shampoo, conditioner and treatment, as well as a FREE Allure magazine subscription. It's priced at $9.99, but if you choose to turn down the magazine subscription, you can get $12 back in a rebate check. That makes this a $2.01 moneymaker!
If you want, you can use coupons to grab another Pantene hair care product for FREE. Check out this scenario:
Pantene Gift Set – $9.99
Pantene Hair Care Product – $3.84
Total: $13.83
$3/2 Pantene Products, 9/25/11 RP Insert
Stacks with $1/2 Venus Embrace Razor, Pantene, Secret or Olay Body Wash Target coupon, 9/25/11 RP Insert
Pay $9.83
Submit for the $12 Allure magazine refund
Final cost: both FREE + a $2.17 moneymaker!
Thanks, Totally Target!