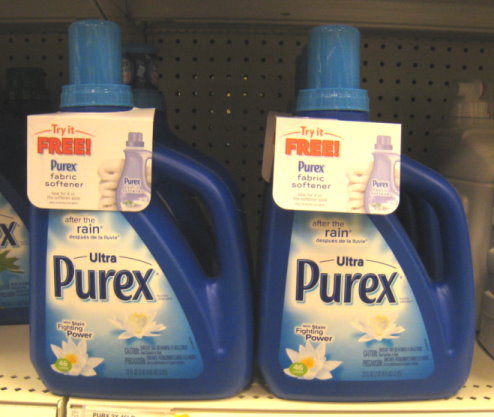 Purex Fabric Softener try me FREE hangtags have been spotted at Target on the 72oz bottles of detergent! The mail in rebate has a max value of $4 and must be postmarked by May 31, 2010.
While the larger size Purex is on price cut right now, the 72oz bottles of Purex are $4.99. There is a coupon from the 2/21 RP, and if you can find the hangtags, if you factor in everything together, it makes for a pretty decent deal for laundry needs. I am going on the assumption that you will be able to find a bottle of Purex FS for under $4.
Buy 2 Purex Detergents at $4.99 each and 1 Bottle of Fabric Softener (let's call it $3.99)
Total: $13.97
Use the B1G1 Purex Detergent coupon from the 2/21 RP (exp 3/6)
Submit for the mail in rebate for $3.99 from try me FREE hangtag
Final cost: $4.99 for 2 bottles of detergent and a bottle of fabric softener
Thanks, Totally Target!