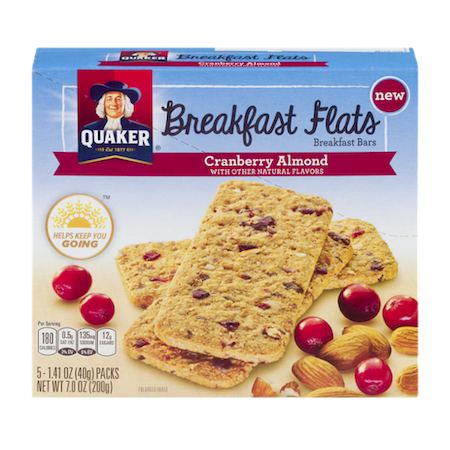 Target has a great gift card deal running on food and beverages this week! You'll get a FREE $5 Target gift card when you buy $15 in select food/beverages. To get this coupon, check your weekly ad, or text PEPSI to 827438 on your mobile device.
The following brands are included in this offer: Quaker, Aquafina, Gatorade, Pepsi soda, Starbucks bottled beverages, Izze, Rockstar, Lipton & Pure Leaf bottled beverages, and Frito-Lay snacks.
We have some high-value coupons and Cartwheel offers for Quaker products that make for an amazing deal! You'll get 7 products for just $2.70 after coupons and gift card.
Buy 3 Quaker Breakfast Flats – $3.09 each
Buy 4 Quaker Real Medleys Oatmeal Cups – $1.67 each
Total: $15.95
-$0.93 (Use 10% off Quaker Breakfast Flats Cartwheel offer)
-$0.32 (Use 5% off Quaker Real Medleys Cartwheel offer)
-$3.00 (Use 3 $1/1 Quaker Breakfast Flats – 3-6-16 RP)
-$4.00 (Use 4 $1/1 Quaker Real Medley Oatmeal- 3-13-16 RP)
Pay $7.70
Get back a $5 Target gift card (with coupon)
Final cost: $2.70 for 7 items ($0.39 each)
If you don't have these Quaker coupons, you can mix and match other participating items to come up with your own scenario.