The links in this post contain affiliate links and I will receive a small commission if you make a purchase after clicking on my link.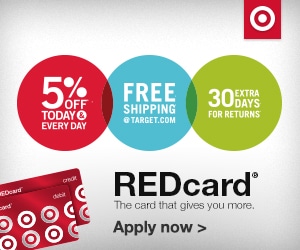 Target REDcard Benefits: 5% off, FREE Shipping, and More
Everyone is looking for ways to save money while shopping in stores. One of the easiest ways to save money at Target is by obtaining a Target REDcard.
Target REDcards are available in credit and debit versions, but offer the same benefits. By signing up, you'll receive the following Target REDcard benefits.
Target REDcard Benefits:
5% off every day
FREE shipping on most orders at Target.com
30 extra days for returns (some items excluded)
Immediate approval (except some debit applications)
The 5% savings really does add up, especially for those larger purchases, like TVs and iPods/iPads. Plus, the FREE shipping and return extension will definitely come in handy during the holiday season!
As I mentioned above, the Target REDcard comes in credit and debit versions. If you choose to have a Target Credit REDcard, once you've received the physical card, you can pay your bill right at Guest Services in any Target store with cash, check, or debit card.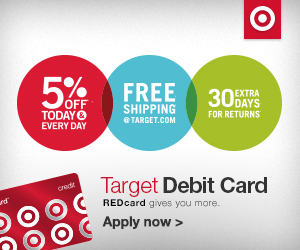 However, I would suggest getting a Target Debit REDcard. The debit REDcard offers all the same benefits, but you don't have to remember to pay your bill every month! It works just like a check; it draws from your linked checking account, and there's no annual fee.
I've had a Target Debit REDcard for four years, and I absolutely love it! The 5% discount makes Target's already great prices even better, and the FREE shipping is just icing on the cake.
You have nothing to lose; only savings and benefits to gain! Apply for a Target REDcard today and start saving.
Apply for the Target REDcard