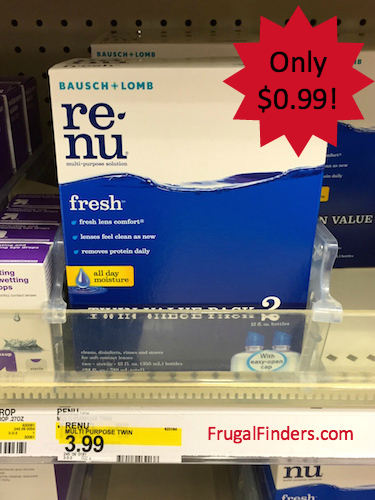 Here's an awesome deal to check for next time you're at Target!
I found Renu Fresh Multi-Purpose Solution Twin Packs priced at just $3.99 at my store! This is a great price without any coupons, but we do have a $3/1 coupon for the twin pack that makes these only $0.99 per twin pack!! These are regularly $13.99, so it's an awesome deal.
The price on these may vary from store to store, but it doesn't hurt to check. These were found in the regular contact solution aisle in my store. There were also 33% bonus twin packs that also rang up for $3.99. The DPCI number on these is 245-09-0181.
If you have any FSA funds available, you can use these to pay for them as well.
Renu Fresh Multi-Purpose Solution Twin Pack – $3.99
$3/1 Bausch + Lomb Renu Fresh, Twin pk 12 oz ea – 11-2-14 SS (exp 01/02/15)
$2/1 Renu, 12 oz or Larger printable
Final cost: As low as $0.99 per twin pack!
Let us know if you're able to find this deal in your store!