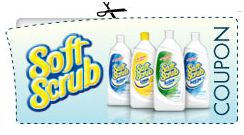 The Soft Scrub B1G1 coupon has been around for a while now, but for those who have not printed it yet, there is a good deal to take advantage of. Soft Scrub Cleansers are on price cut until 4/10 for $2.50.
You will need a B1G1 coupon for this deal. First, join the Soft Scrub Club and check your inbox and verify your e-mail address to be brought back to the site. Look under the left tab 'member exclusive offers' to print your B1G1 Q for Soft Scrub Cleanser. Now go up top to their 'Special Offers'  tab where you'll find a $1/1 Soft Scrub Cleanser. Here's the deal:
Buy 2 Soft Scrub Cleansers, $2.50 each (on price cut until 4/10): $5
Use the B1G1 Soft Scrub Cleanser printable coupon (found under member exclusive offers once you join)
Use the $1/1 Soft Scrub Cleanser printable coupon (for the one you're not getting FREE)
Final cost: $1.50 for two or $0.75 each
*Note:
The Soft Scrub Gel is also on sale this week only for $2.50. I cannot confirm that it is also on price cut, so I would only count on that price for the gel until 3/20. You can use the above deal and coupons on the gel as well for the same price. I know there is a $1.50/1 Soft Scrub Gel on the Soft Scrub site, but it now seems to be a dead link, even for new members.
Thanks, Totally Target!