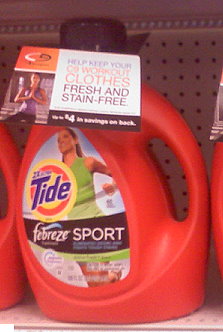 Tide Febreze Sport will be included in the $5 gift card wyb 2 select items deal tomorrow. You can see all the products included in Totally Target's post.
This should make for a pretty good deal on Tide products. Look for these hangtags in your store, which have a Target coupon for $1.50/1 Tide, and there was also a regional Target coupon in the 2/21 RP.
Deal Scenario:
Buy 2 Tide Febreze Detergent (75oz), $9.99 each
Buy 2 Tide Stain Release, $5.99 each
Total: $31.96
Use the $1/2 Tide detergent coupon from the 2/7 P&G
Use two $1.50/1 Tide Plus Febreze hangtags, or use two $1.50/1 Tide Plus Febreze coupons from the 2/21 RP
Use two FREE Tide Stain Release wyb Tide Detergent 75oz+ coupons from the 2/7 P&G
Pay $15.98
Get a $5 Target gift card
Final cost: $10.98 for all 4 items ($2.75 per item)
Thanks, Totally Target!