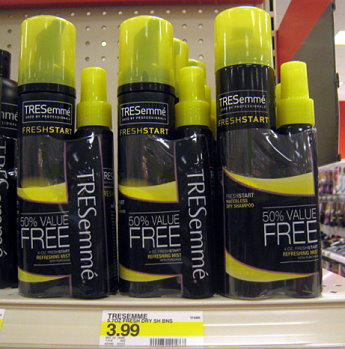 Bonus packs of TRESemme Fresh Start may be priced at only $3.99! They would be on an endcap and it was a full size waterless dry shampoo packaged with a 4 oz refreshing mist. This makes for a pretty good deal with the coupons I posted about yesterday.
Buy 2 TRESemme Bonus Packs at $3.99 each: $7.98
Use the B1G1 TRESemme Fresh Start product (up to $5.50) printable coupon
Use the $2/1 TREsemme Fresh Start product printable coupon
Final cost: $1.99 for 2 bonus packs
*Some Target stores have no issues with a deal like this, but some Target stores may give you a hard time when using a B1G1 coupon along with another. This is perfectly acceptable coupon usage in many grocery stores, drug stores, etc. across the country unless either coupon prohibits it.
Thanks, Totally Target!